There are many occasions worth celebrating: weddings, baptisms, birthdays… At these events, it's essential to ensure that all guests can enjoy themselves, whatever their age. So that the older ones can enjoy the moment and have fun, it's essential to provide entertainment for the younger ones at the various family events. The Drawin'kids children's table is a real asset in creating a space for little guests.
Finding the right way to entertain
At important events, it's often difficult to reconcile the pleasure of adults with that of children. Adults want to enjoy the occasion, chat and make memories, but they also need to ensure that younger guests are kept busy, happy and safe. That's why setting up a kid-friendly space can be a simple but very useful idea for any event.
The Drawin'table is specially designed for children aged 2 and over. It meets NF EN 71-3 and NF D60-300 safety standards for children's furniture, so they can have fun in complete safety. Its height-adapted size (H48cm) means that the little ones can use it independently, which means that adults can go about their business with complete peace of mind.
A wedding, birthday party or even a christening where children can sit around the Drawin'table, drawing, coloring and letting their creativity run wild is an added bonus to help the festivities run smoothly. Meanwhile, adults can relax, chat and enjoy the event to the full, safe in the knowledge that their children are safely occupied.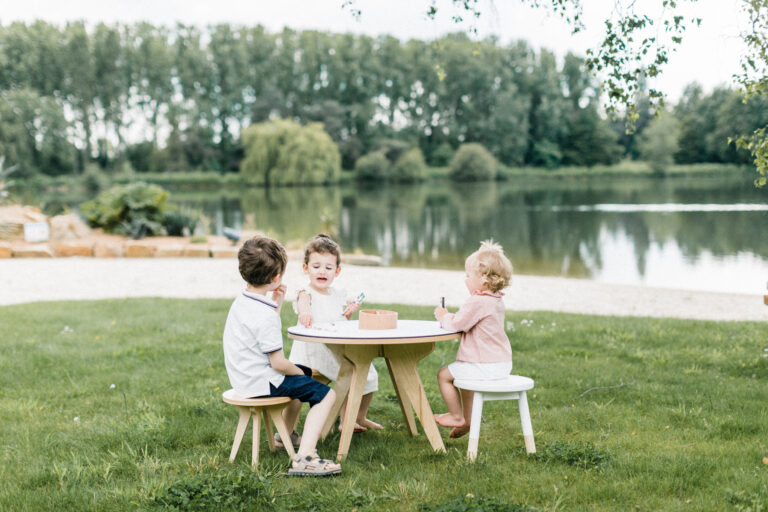 Finding the right way to entertain
When hosting a reception, it's important to ensure that all guests, whatever their age, have fun and enjoy themselves. That's why it's essential to set up a kid-friendly area for the little ones! By creating a space dedicated to children, parents can enjoy peace of mind. It allows adults to relax and children to have fun.

The Drawin'table is a real asset when it comes to setting up a kids' area for events. Indeed, with its multiple functionalities, children are kept busy for hours as they can play, draw, color and even eat while parents enjoy the event.
The advantages of Drawin'table
Unlimited creativity
The Drawin'table offers many advantages as an entertainment tool. In fact, the table features a reversible tray, with a chalk side and a Velleda side, which means children have even more opportunities to express their imagination and creativity. They can draw with chalk or write with dry-erase markers, offering a variety of creative and fun activities.
What's more, the Drawin'table can be complemented by refills of blank sheets and/or coloring sheets, offering a wide range of options for little artists. Children can switch from one support to another according to their mood and inspiration.
More than just a play table…
Children can play, draw and color on Drawin'table, but that's not all! This round wooden children's table can also be used as a snack table or even a children's meal table, especially for special events. Simply remove the various supports and the table can become a real dining table for little guests.
An educational tool
The children's drawing table designed by Drawin'kids is not only a fun tool, but also a playful and innovative piece of Montessori furniture for children's learning. The Drawin'table encourages children to develop fine motor skills, creativity and concentration. Artistic activities also encourage expression, learning and sharing.
Sharing and helping each other.
Two Drawin'table models are available:
The Drawin'table Home Edition – Diameter 70 cm for up to 4 children
The Drawin'table XXL Edition – 90 cm diameter for up to 6 children.
The Drawin'table can accommodate up to 6 children (or more) depending on the model, encouraging social interaction and collaborative play between children. They can play, draw and color together.
Innovative Scandinavian design
Drawin'table also boasts an innovative, minimalist design that blends harmoniously into any room. Not only does it offer a fun solution for children, it also adds an aesthetic touch to the decor thanks to its modern, Scandinavian design.