Drawin'kids for Professionals : A children's play area
Having a children's play area is important : Whether you are a liberal professional, a nursery or a childminder, a bookstore, a school or a hotel. Our Drawin'table will find its place and its usefulness within your space. At Drawin'kids, we advocate learning by doing, creativity and the awakening of curiosity in the youngest, like the Montessori method.
Do you have a project for a children's play area?
You can get the Drawin'table right here.
Your project concerns the acquisition of more than 10 Drawin'table?
We are able to make you a personalized offer.
Thank you for contacting us by email at hello@drawinkids.com or by phone at 06.31.83.21.72.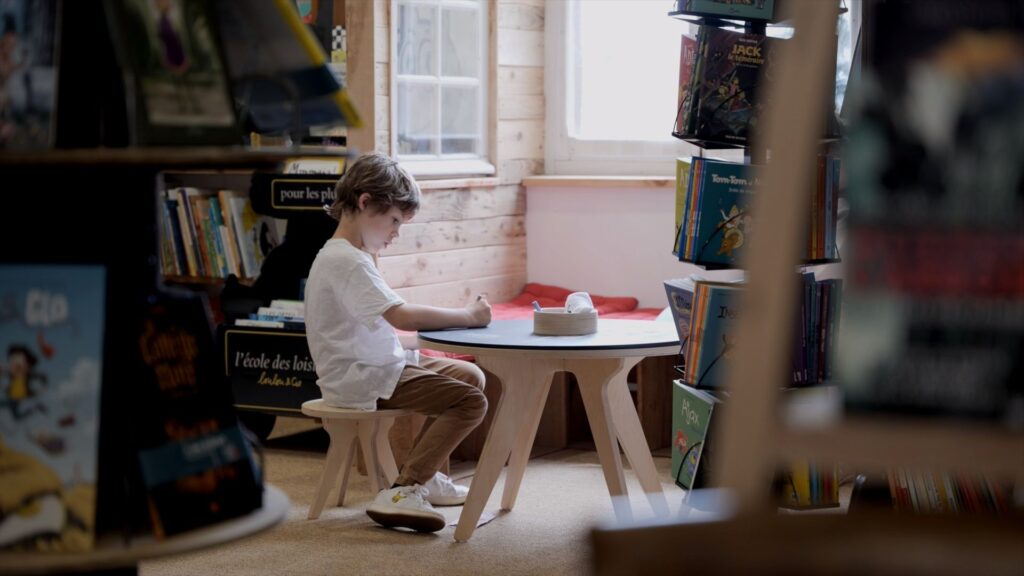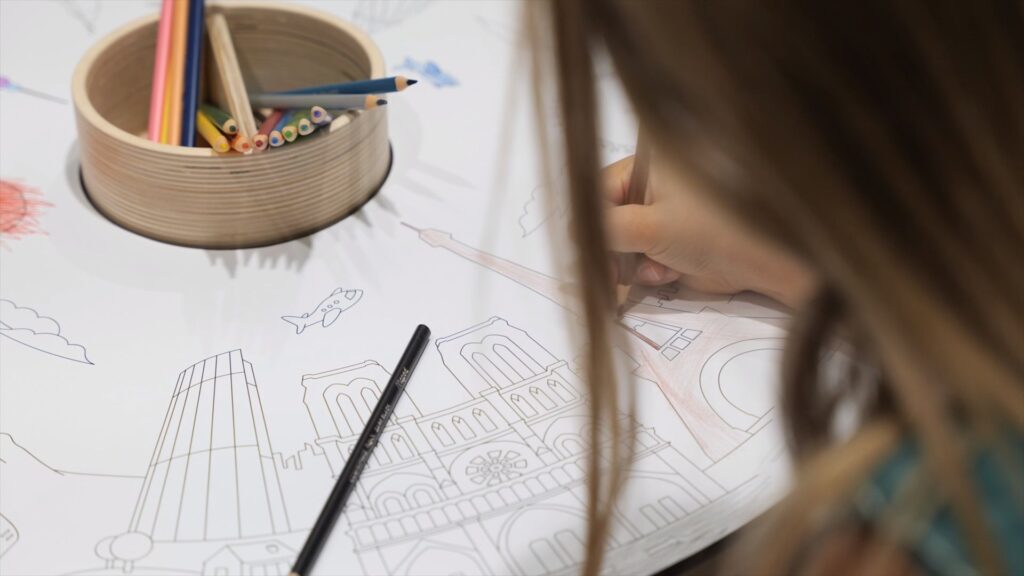 The Drawin'table is an integral part of your space and you want it to be totally integrated to your branding, to your image?
The sheets are customizable to your brand identity (logo, mascot, storytelling, etc.)
This specific request requires an in-depth study of your project and the volumes envisaged. Please contact us by email at hello@drawinkids.com or by phone at 06.31.83.21.72.
Early childhood: day care centers, nursery nurses, schools : A real learning tool
Our table also finds its place in the environment of the early childhood whether it is in nurseries, for nursery assistants or in a school.
It is a real learning tool to have fun and create together.
It favors discovery through drawing, notably thanks to our different categories of coloring pages to discover animals, cities and even insects and blank pages to let the creativity and imagination of little artists run free.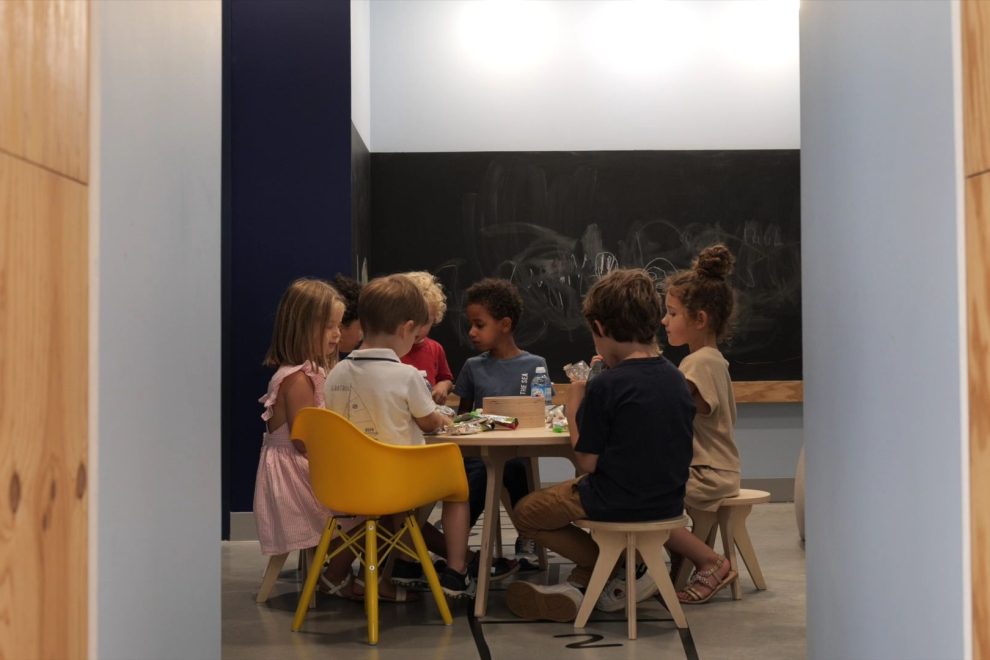 Hotels, Restaurants, Bed and Breakfast, Guest houses : A plus for the customer experience !
In a hotel, a B&B or a guest house, the table can be put at disposal in a Kids area to make them wait at the reception and during the whole stay. And why not put it directly in a parental suite for the greatest happiness of children … and their parents! Modular, it can also be used as a table to have a drink with friends during the stay and leave lasting memories of a stay rich in discoveries!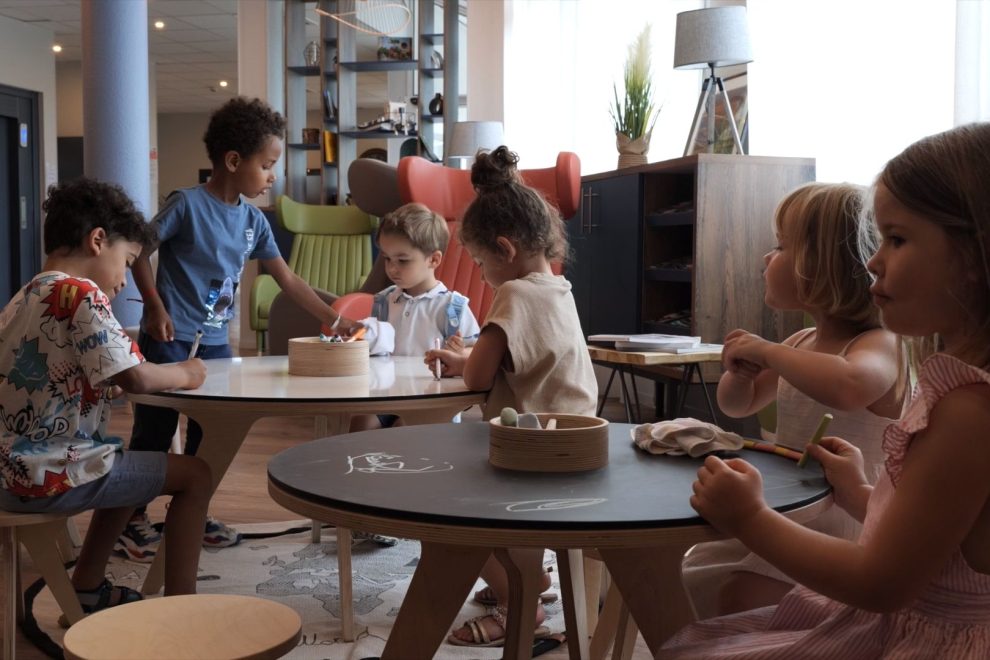 Doctors, Pediatricians, Speech therapists, etc. : A quiet activity for little patients
Exit the little games that bore our children in the doctor's waiting room. Bring an additional serenity and benevolence to your parents by proposing a table that can occupy their children during the waiting time in the office, and this in a playful and creative way.
Department stores, Stores : More time spent in the store for parents
For our merchants who wish to set up a Kids Friendly area in their store, the table is made for you. It is often difficult for parents to do their shopping or their groceries while taking care of their children. By creating a space kids with our Drawin'table, it is the serenity assured, and the customer satisfaction guaranteed!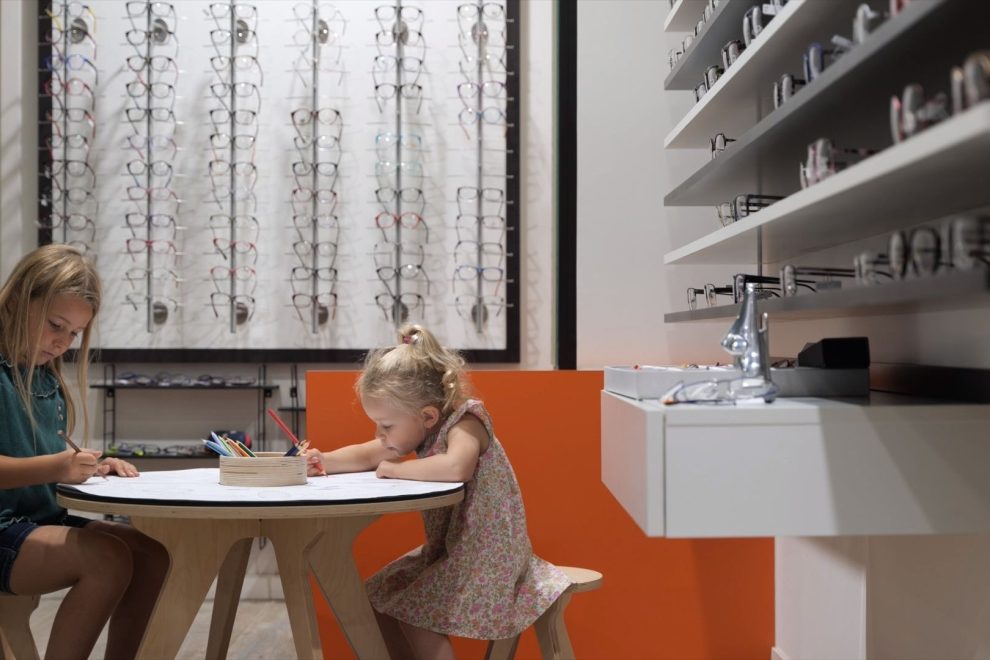 Bookstores, Media libraries : A calm and playful activity for children
Set up in a bookstore or media library, your mini customers can draw their favorite book characters, and let their imagination run wild to illustrate the hero of a novel or to reproduce the antagonist of the comic book they are reading. Otherwise, the table can keep them busy while dad buys a book for mom!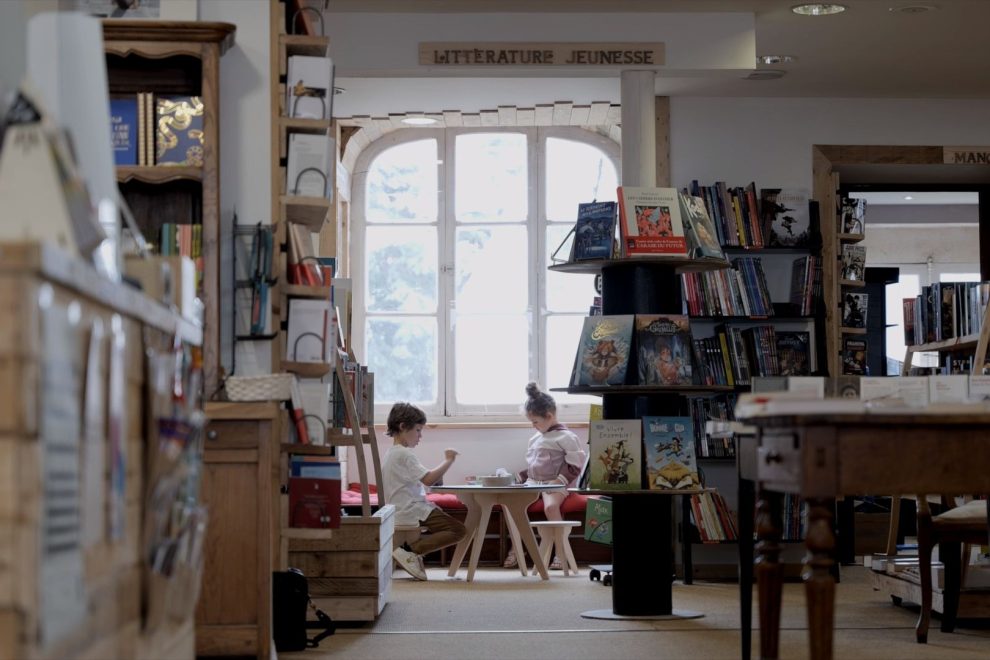 The Drawin'table in video !
The Drawin'table, a commitment to eco-responsibility and solidarity!
We are also proud to manufacture our table in Europe and thus reduce the impact of our transport, to act by striving to reduce our ecological footprint as much as possible for the good of future generations, and finally to promote professional inclusion, through a commitment with the ESAT of Blain, in France.
The manufacture of furniture is Latvian. We are proud to work with a family-owned factory that has put its know-how and skills to develop the Drawin'table and its ingenious system, nails and screw less.
An eco-responsible commitment...
The sheets are printed in France near the Drawin'kids warehouse, near Nantes. All our sheets are labeled PEFC, the paper is from sustainably managed forests.
The sheets are then put in cardboard by the ESAT of Blain in France.
It was important to us to contribute to the fight against discrimination and exclusion of people with disabilities.
Our Drawin'table is a patented model, without nails or screws that can be assembled and disassembled in three movements (I promise it's true). Easy to assemble, therefore, it is provided with a first wooden tray that is fixed to the legs of the table. On top of this tray come to be put round sheets which are perforated in the center to fit the shape of the pencil pot that is placed in the center of the table. It is not finished, since a reversible tray, with a side made for writing and drawing with chalk and another made for Velleda, is also included with the table. The Drawin'table comes in 2 sizes, the original edition with a diameter of 70cm, which can accommodate up to 4 children and an XXL edition, with a diameter of 90cm, which can accommodate up to 6 children.  
Our table is at child height since it is 48cm high.