Children's waiting room : How and why should you create a Kids Friendly space ?
Children's waiting room
Whether you are a doctor, a pediatrician, a dentist, a speech therapist, an osteopath or a physiotherapist, you welcome parents and their children in your practice.
The design of a waiting room is an important step: and you can make the wait for your little patients and their parents pleasant!
It is important for the well-being of your patients to welcome them in good conditions.
Indeed, children may be stressed in unfamiliar places.
Some parents do not like to see their children playing with the plastic toys present in certain waiting rooms, because they are often put in the mouths of the little ones … which is not hygienic. The parent must sometimes anticipate and bring with him books and / or toys of his child to occupy and reassure him …
But we have a nice solution to bring you 😉 !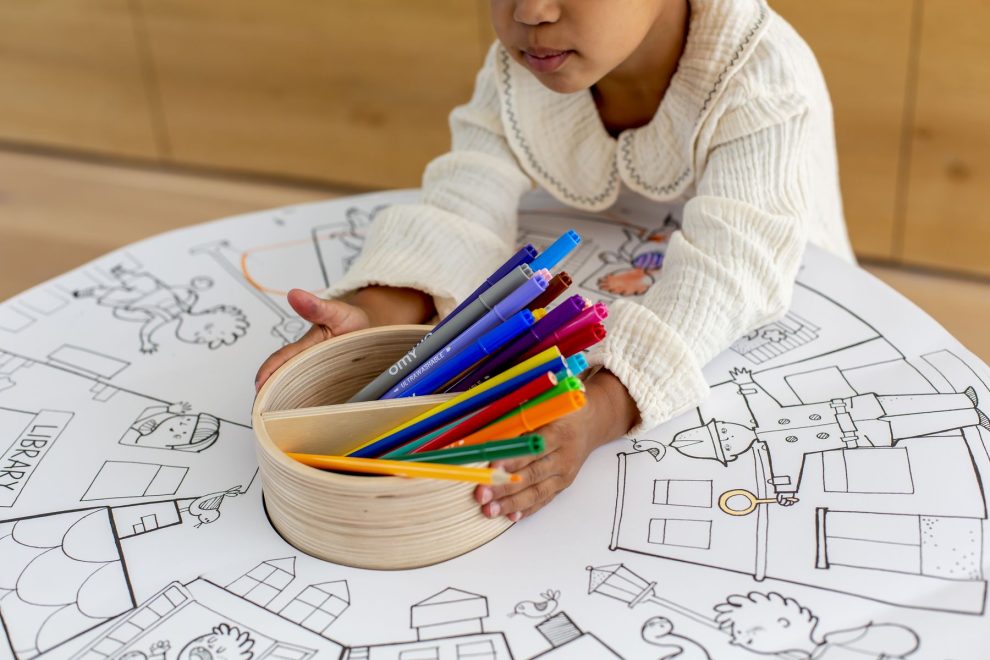 Zoom on the central pencil pot of our drawing table: The Drawin'table
Children's waiting room : A Kids Friendly atmosphere
To design a waiting room with several objectives in mind:
Reassure the little ones with a Kids Friendly atmosphere,
To bring serenity to parents,
Finally, to give a good image, even a first good impression of your practice
Exit the box with the plastic toys of the 90s, or the electronic games, in poor condition, which are scattered in the middle of the room and which it is thus necessary, to arrange at the end of the day. This is especially true since some patients may be disturbed by these noisy games.
A "Kids Friendly" space is a place where the child will feel at home. This will make them feel more relaxed during the consultation.
So how do you create an environment that is as pleasant for children as it is for parents, in keeping with the image of your practice?
A Scandinavian design drawing table: 2 versions available depending on the space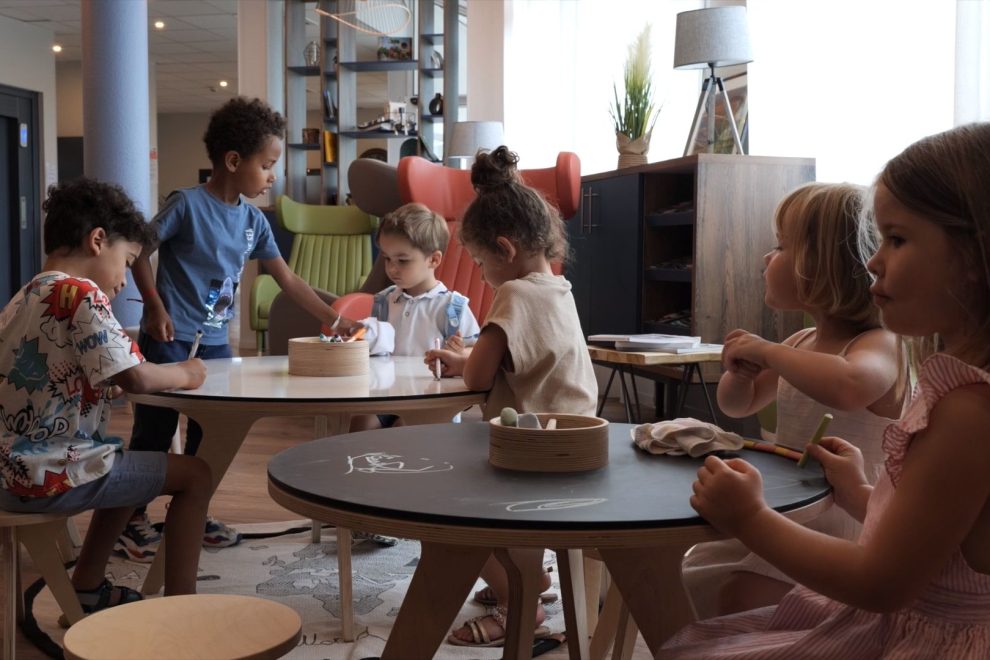 In addition to chairs specific to a reception area, we also opt for furniture for children.
Furniture adapted to their height, available to toddlers as well as older children.
The Drawin'table is a birch wood drawing table, multifunctional, designed at child height. It is particularly suitable for children aged 2 to 6 years (or more!)
With a height of 48 cm, the table is available and reassuring: the child understands immediately that this piece of furniture is reserved for him. Instinctively, he will take place on one of the stools, and take a colored pencil to color.
Our wooden drawing table visually attracts children, thanks to its round and welcoming shape, and its singular design.
The Scandinavian design of the Drawin'table fits all the universes: contemporary, design, classic!
The coloring activities are essential games for the good development of the child. The drawing and coloring are timeless activities! They allow children to work on their imagination and their ability to concentrate.
And look at the pride in a child's eyes when he shows his work to his parents!
Plus, it's a quiet activity, particularly suited to rest areas or waiting rooms.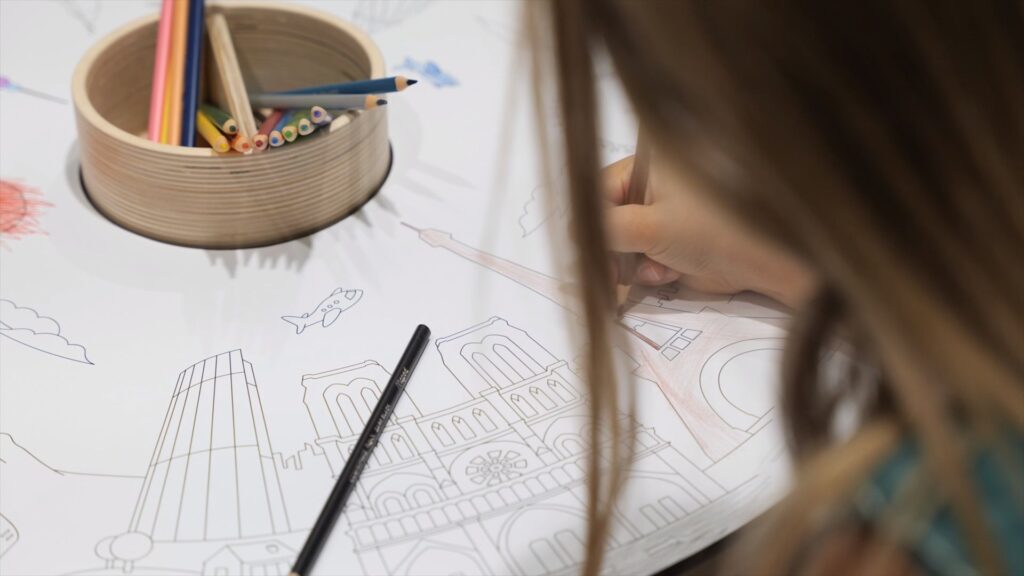 Pastels, colored pencils, felt pens, chalk or even velleda: it is a whole range of accessories that children can use on the coloring table.
The Drawin'table offers several supports:
A reversible tray on the chalk side / velleda side: we let our imagination run free, we create and hop, we erase! And we start again…
White or themed sheets: coloring cartoon characters or beautiful colorings of nature or animals! There is something for everyone.
Eco-Responsible and Anti-Waste : Thanks to the thickness of the sheets (200gr/m2), children can draw and color on both sides of the sheet, without risk of transparency. Our sheets are PEFC certified (Program for the Endorsement of Forest Certification), which means that they come from sustainably managed forests and controlled sources. 
A unique know-how
The Drawin'table and the stools are made in Latvia. We are proud to work in a factory, family, which has put its know-how but also its skills to develop the Drawin'table and its ingenious system. Thus the Drawin'table is assembled without nails or screws. The wood we have selected for production is a birch wood, premium quality.
Standards
All our furniture complies with the safety requirements for children's furniture:  NF EN 71-3 and NF D60-300.
An eco-responsible commitment…
The sheets are printed in France near the Drawin'kids warehouse, near Nantes. All our sheets are labeled PEFC, the paper is from sustainably managed forests).
… and solidary !
Within the framework of a CSR commitment, the sheets are then put in cardboard by the ESAT (Establishment and Service of Help by Work) of Blain (44) in France. It was essential for us to contribute to the fight against discrimination and exclusion of people with disabilities.