Children's furniture is becoming increasingly important in hotels. Over the years, the expectations of hotel guests have evolved, creating an increasingly demanding clientele. Today, beyond price, customers are looking for a unique, personalized experience and a certain level of comfort. In order to attract and retain this new clientele, it is therefore important for hotels to provide services but also facilities that meet the needs and desires of their customers.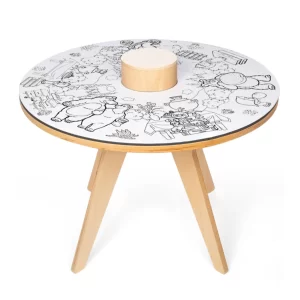 Furniture as a sign of standing
The layout of the space and the furniture are the first things guests notice when they arrive at a hotel. Indeed, the choice and quality of the furniture generally determine the level of standing of the establishment. It is therefore essential that hoteliers offer a warm welcome with different spaces and adequate furniture according to the image they want to give to their guests.
Drawin'kids has designed a high-end drawing table, made from premium quality birch wood. Multifunctional and robust, its minimalist design will blend perfectly with the different spaces of hotels and will create a certain image of standing.
The importance of kids' areas in hotels
Kids' areas are important in family hotels and help to give a good impression of welcome to the whole family. Children should be considered on the same level as their parents, which can help create a positive guest experience for the whole family.
The children's area is a place where they will feel at home and where they will be able to create beautiful memories of their time together. They will be able to create beautiful vacation memories in a warm and welcoming environment with furniture appropriate to their age.
For parents, seeing their child happy is important and a sign of satisfaction. By offering a children's area with safe and appropriate furniture, hotels can attract and even retain new customers by offering additional and unique services to families.
With a height of 48 cm, the Drawin'table has been specially designed so that children can use it independently. Moreover, it meets the safety requirements for children's furniture (NF EN 71-3 and NF D60-300), so they can use it safely.
A plus for the customer experience!
This space is a real added value to the hotel and contributes to customer satisfaction since it will bring calm and serenity to parents, allowing them to relax while they wait to check in at the lobby or to get their room.
Children will be able to enjoy a play area completely dedicated to them where they can play alone or with others in complete safety and autonomy.
But that's not all! In fact, welcoming children has a significant impact on hotels and their image. The development of a children's area allows to occupy the little guests and to avoid turbulences with the other customers, thus preserving and improving the image of the hotel.
Today, the Drawin'table is present in more than 100 hotels in Europe and makes the happiness of the small guests.
Benefits for families traveling with children
The kids' area is a dedicated children's area in hotels and offers fun activities and children's furniture suitable for small guests.
This area has many advantages for families.
Safety and comfort: Kids areas are often equipped with special materials and guarantee the safety of children while they are playing. This means that parents can leave them to play in peace without fear.
Entertainment:Most spaces usually offer a variety of fun and educational children's furniture such as books, drawing tables, play airs… This allows for a variety of activities to be offered.
Learning: Educational activities can allow children to stimulate their creativity, coordination as well as help them develop their fine motor skills.
Relaxation: While the children are having fun and relaxing, parents can also take the opportunity to take some time for themselves and rest.
Socialization:The kids' areas are common spaces where children have the opportunity to meet other children and share moments with them.
The ideal solution: A drawing table with a Scandinavian design
Each hotel has constraints related to its layout or its decoration. The table designed by Drawin'kids will meet the expectations and needs of customers but also those of hoteliers. Indeed, it will adapt perfectly to the space kids of the hotels thanks to its Scandinavian design adapted to the children and to the different spaces. This furniture with its minimalist design and child height will be perfect in a play area whether it is at the hotel reception, in a breakfast room or in a room.
Today, not only the furniture must be elegant but it must also obey the standards imposed by the legislation in force. The Drawin'table complies with the safety requirements for children's furniture (NF EN 71-3 and NF D60-300), which allows hotels to benefit from a safe, solid and ergonomic furniture for children's leisure.
The small guests will be able to enjoy the comfort of this table with multiple functions while having fun and in complete safety.
Drawin'kids X Iconic House : The kingdom of children
For a few months, the Drawin'table has been a delight for the little vacationers in one of the Iconic House.
"We have turned a child's dream into reality. The "Kids Paradise" with its games, surprises and activities. Enjoy the vacations with your children!" Iconic House.