Using the Drawin'table in the professional sector is a key element in welcoming children during family outings. The Drawin'table is a multifunctional learning and entertainment tool designed to stimulate children's creativity and imagination. The table designed by Drawin'kids is a learning tool that can be used in a variety of spaces, including public areas such as libraries, hotels, restaurants and shopping malls.
Using the Drawin'table in these spaces can offer children a playful and educational experience while providing a break for parents.
Use of the Drawin'table in nurseries, childminders and schools as a learning tool to encourage discovery, creativity and imagination.
In nurseries, childminders and schools, it's essential to use fun learning tools to encourage children's development. Among these tools, the Drawin'table is a multifunctional children's drawing table offering many advantages to young learners.
The Drawin'table is specially designed for children. In fact, it is a children's table with an adapted height (H48 cm), creating a space conducive to exploration and artistic expression. Its ergonomic design allows children to sit comfortably and concentrate on their creative activities. What's more, its surface is easy to clean, facilitating the work of professionals.
However, the Drawin'table is more than just an educational entertainment tool for children. It also contributes to their cognitive and motor development. With its multiple supports, it stimulates children and encourages collective and independent play. Drawing and coloring activities encourage creativity and imagination, while developing fine motor skills and hand-eye coordination.
In the professional environment, the Drawin'table plays a key role as an educational entertainment tool. It creates a playful space where children can learn while having fun. Educators can use this round children's drawing table as a teaching aid for a variety of subjects. What's more, its round shape encourages collaboration between children, strengthening their social skills and team spirit.
The Drawin'table is an essential playful learning tool for nurseries, childminders and schools. It provides a space dedicated to artistic expression and encourages children's development. Thanks to its many advantages, this multifunctional drawing table is a real asset for education professionals and young learners alike.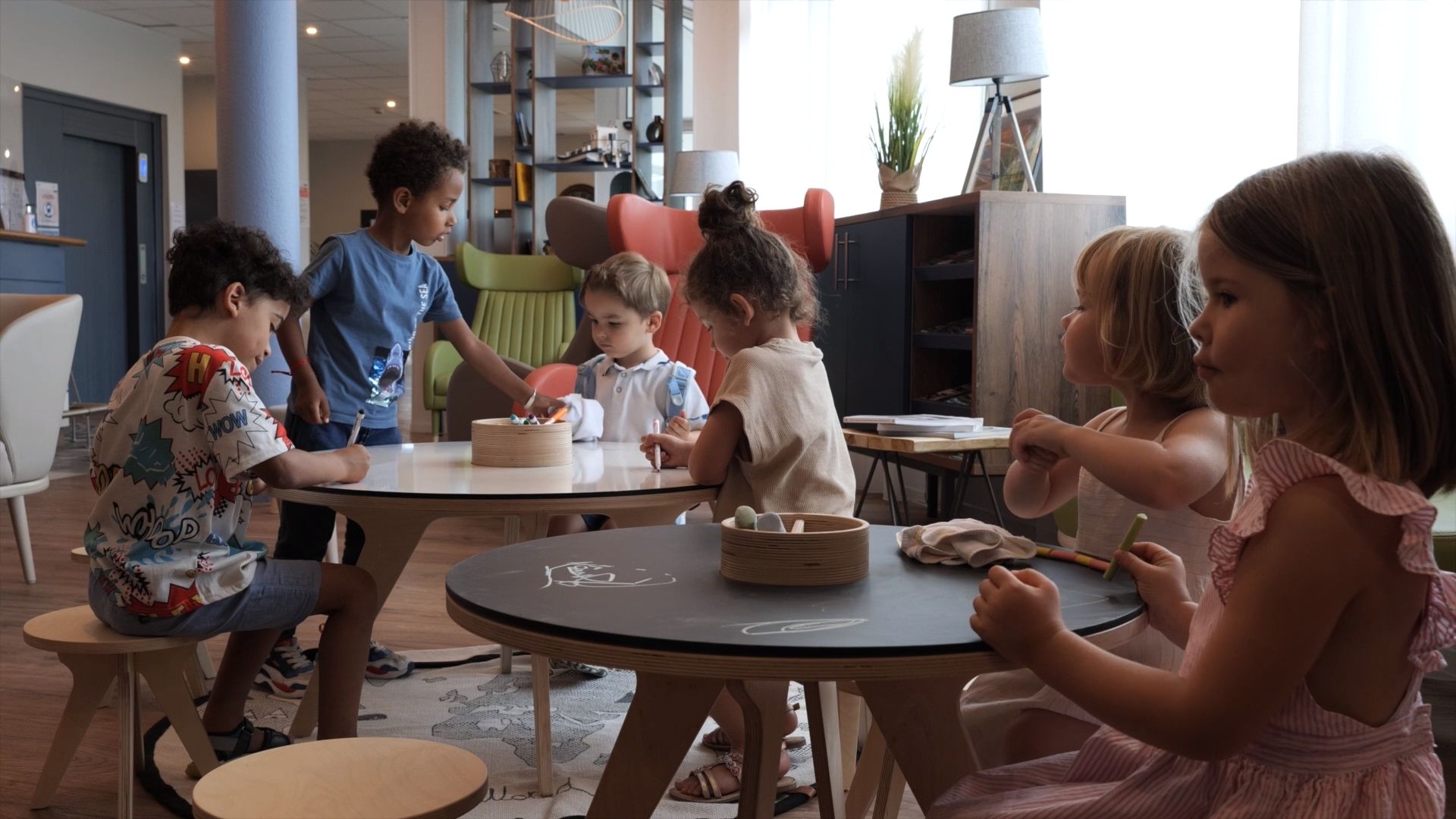 Drawin'table benefits hotels, restaurants, B&Bs and guest houses to offer a more complete and entertaining customer experience.
In the hospitality industry, it's important to offer an exceptional customer experience to stand out from the competition and build customer loyalty. The Drawin'table offers numerous advantages that meet the needs and expectations of professionals in this sector.
One of the Drawin'table's major assets is its versatility. As a multifunctional children's drawing table, it can be used for drawing and coloring activities, but also as a support for playing or eating. This makes it an ideal piece of furniture for children's reception areas. Parents can enjoy their meal or their stay in the knowledge that their children are occupied.
What's more, the smart children's drawing and coloring table offers a unique opportunity for establishments to add a touch of originality to their ambience. The round children's drawing table can be seamlessly integrated into existing aesthetics, while adding a playful, welcoming atmosphere. This creates a more complete and memorable customer experience, offering a family-friendly environment.
By integrating Drawin'table into their establishments, hotel and catering professionals demonstrate their commitment to the well-being of families and their desire to create enjoyable experiences for customers. This multifunctional drawing table helps to make the space more attractive for families, while offering children a fun activity to keep them entertained during their stay. This boosts customer satisfaction, fosters loyalty and encourages positive recommendations.
Use the Drawin'table in doctors' surgeries, pediatricians, speech therapists, etc., to offer young patients a calm, creative activity during waiting times.
In doctors' surgeries, pediatricians, speech therapists and other healthcare professions, waiting times can be stressful and boring for young patients. That's where the Drawin'table comes in, offering a calm, creative activity to keep them occupied during these waiting times.
One of the Drawin'table's strengths is its ability to provide a playful and soothing activity. Children can sit around the intelligent children's drawing table and let their creativity run wild as they draw, color or play. This helps to create a more relaxed and enjoyable environment for young patients, allowing them to distract themselves from the apprehension associated with medical visits.
The Drawin'table is also a practical tool for healthcare professionals. It can be used to distract children during examinations or procedures, facilitating cooperation and reducing anxiety. What's more, using the Children's Round Drawing Table allows professionals to concentrate more on their work, safe in the knowledge that young patients are engaged in a positive and appropriate activity.
By offering this calm, creative activity, the Drawin'table also contributes to the development of children's skills. Drawing and coloring encourage fine motor skills, hand-eye coordination and concentration.
An added benefit of introducing the Drawin'table into doctors' surgeries and healthcare professions is that it can help reduce agitated behavior and crying, creating a more peaceful environment for other patients and medical staff.
Integrate Drawin'table into boutiques, shops, bookstores and media libraries to create a kid-friendly space and offer a fun activity for children.
The presence of Drawin'table in boutiques, shops, bookshops and media libraries is an innovative solution for creating a child-friendly environment. By integrating this multifunctional drawing table for children, these establishments offer an enriching experience for young visitors.
Stores and businesses that adopt Drawin'table create a family-friendly space. Children can sit around the table and engage in creative activities such as drawing and coloring while their parents shop. This offer of fun activities adds extra value to the customer experience.
Bookstores and media libraries can also benefit from Drawin'table by creating a child-friendly space that encourages the discovery of reading. Children can sit around the table and give free rein to their artistic creativity, while immersing themselves in the world of stories. This stimulates their interest in reading and strengthens their relationship with books and libraries.
The integration of Drawin'table also helps to channel children's energy, keep them occupied and prevent potential distractions. Establishments can adapt the layout of this round children's table to create a dedicated space, promoting better organization and a more pleasant experience for all visitors.
Finally, the integration of Drawin'table in boutiques, shops, bookstores and media libraries testifies to their commitment to education, creativity and the customer experience. It reflects their desire to offer an inclusive and entertaining space for all visitors, especially children. This initiative reinforces the reputation of these establishments as family destinations and encourages customer loyalty.