Children's artistic expression is crucial to their development. To develop this creativity and promote healthy learning, it's essential to create a Montessori space, a stimulating, playful environment with the right furniture. The Drawin'table is a multifunctional drawing table for children inspired by Montessori pedagogy.
Montessori pedagogy and its basics.
Montessori pedagogy is based on educational principles that place the child at the center of his or her own learning. Indeed, Maria Montessori was convinced of the importance and necessity of respecting each child's personality. Autonomy, sensory exploration and manipulation are at the heart of this method, enabling children to develop a deeper understanding of the world around them. By integrating these principles into a Montessori space, children are encouraged to learn at their own pace, following their interests and developing their creativity independently.
The Drawin'table is a piece of furniture that corresponds to the learning principles of this pedagogy. Indeed, it has been designed at children's height (H48cm) so that they can use it independently. What's more, all the supports are integrated directly into the table, allowing children to use it as they wish, and to let their imagination and creativity run riot. With its multiple functions, children can learn, discover and explore independently and safely.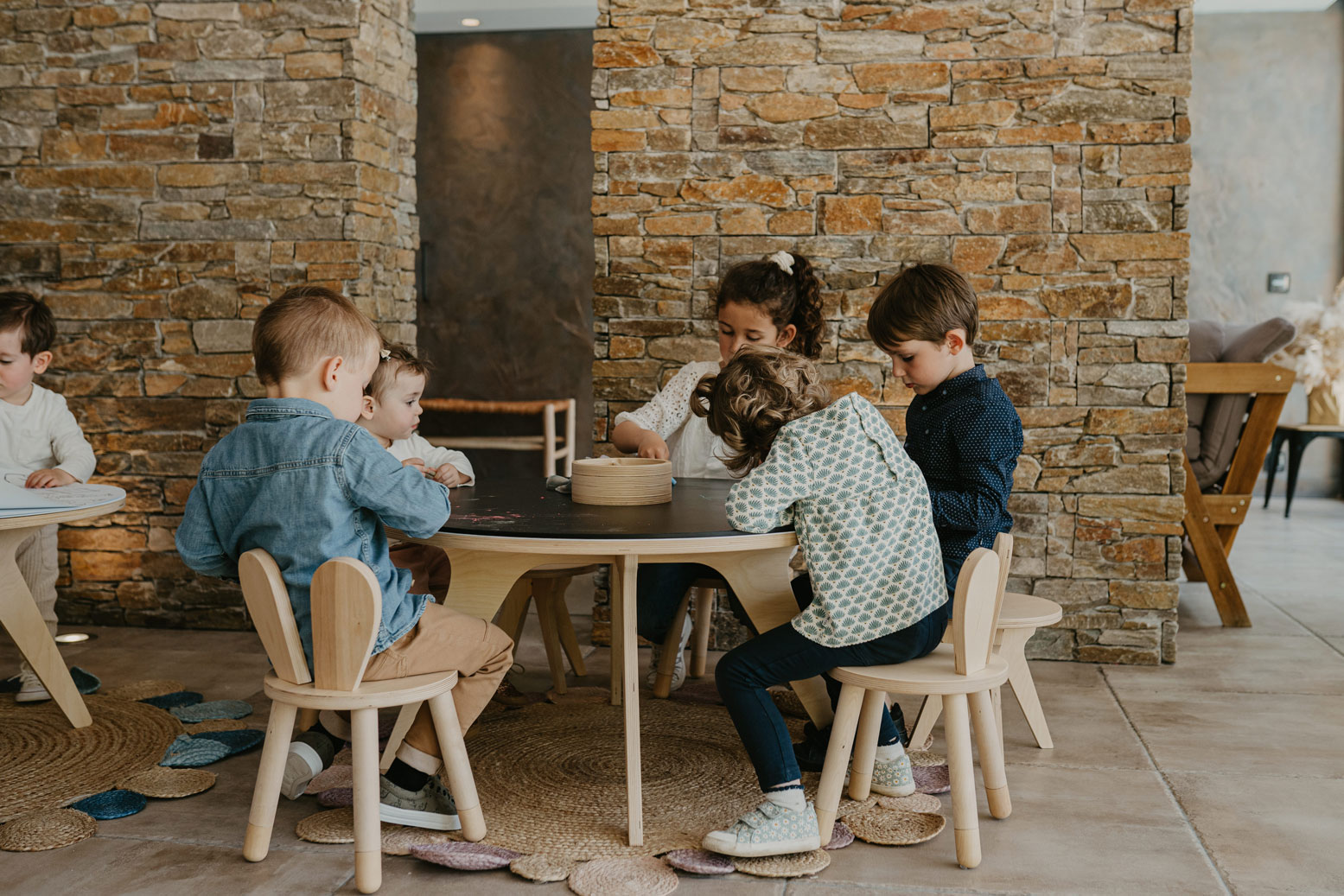 The Drawin'table: An Ally for Children's Learning
Drawin'table represents the harmony between innovation and Montessori pedagogy. This intelligent drawing table for children offers a play space dedicated to artistic expression, with ingenious features to optimize space. With its round shape, it encourages children's interaction and collaboration, creating an environment conducive to exchange and social learning.
A key feature of the Drawin'Table is its ergonomic design, adapted to children's size and needs. The table's durable materials and mobility make it an ideal choice for Montessori spaces. Its minimalist design and versatility make it the perfect piece of wooden furniture for any Montessori play area or classroom. What's more, it complies with safety standards for children's furniture (NF EN 71-3 and NF D60-300), so children can use it safely and independently.
Autonomy and fine motor skills: the advantages of the Drawin'Table
Among the fundamental pillars of Montessori pedagogy, autonomy is a key element in developing children's self-confidence and decision-making skills. The Drawin'table encourages this autonomy by providing a space where children can freely create, explore and experiment.
Thanks to its innovative and accessible design, children can easily choose their artistic activities and engage in moments that stimulate their creativity.
What's more, artistic learning encourages the development of fine motor skills. Drawing, coloring and manipulating different materials on the Drawin'table requires hand and finger coordination, reinforcing the motor skills essential for other activities of daily life.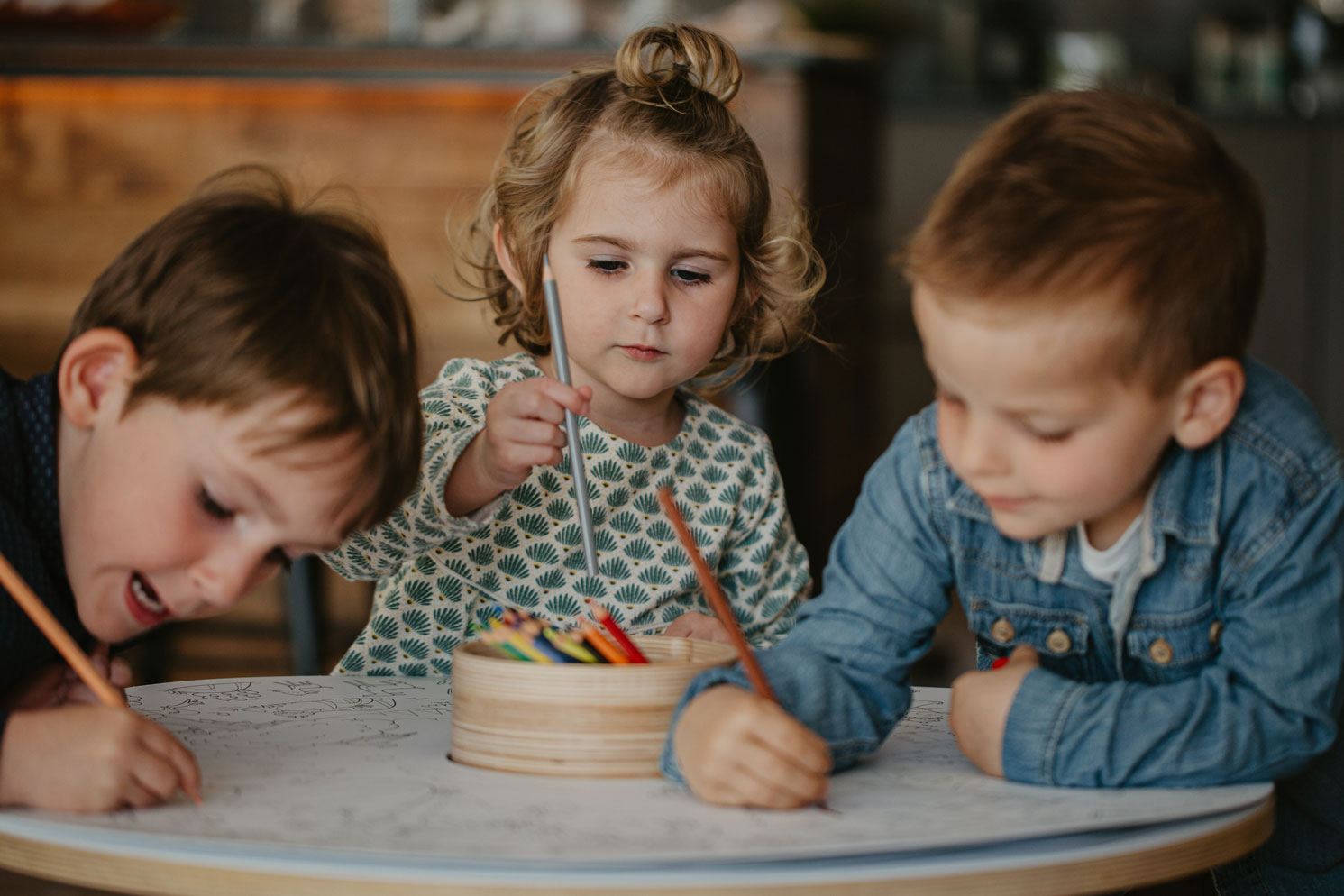 Creating a Stimulating Montessori Environment
Setting up a Montessori space is essential to encourage children's artistic learning and autonomy. By creating a specially dedicated space, children can explore and develop through free play.
To create this space, you need to choose the right furniture to give children the opportunities to develop. Incorporate Montessori elements such as low shelves for storing materials, chairs adapted to children's size and inspiring artworks to stimulate their creativity.
The Drawin'table and its stools are ideal for creating a Montessori space conducive to children's development. In fact, they are adapted to the size of little artists, so that they can be used independently and without risk, since they are certified to child safety standards (NF EN 71-3 and NF D60-300).
Alternative Education: An Essential Complementarity
Montessori pedagogy is not intended to replace traditional teaching, but to complement it. By offering children the freedom to explore and create, this alternative approach nurtures their natural curiosity and builds their confidence. The Drawin'Table fits harmoniously into this balance, offering a platform that fosters creativity while developing key skills.
Nurturing creativity and artistic expression
Artistic learning goes beyond simply manipulating pencils and objects. It's about encouraging children to express their emotions, thoughts and ideas through art. The Drawin'Table creates a space where children can let their imaginations run wild, exploring various artistic techniques and creating unique works of art. It offers a variety of activities that stimulate children's sensory exploration. This stimulation also contributes to cognitive development by encouraging observation, reflection and decision-making.
Opt for the Drawin'Table: Stimulating Montessori furniture
Creating a stimulating Montessori space for children's artistic learning is an enriching and beneficial process. The Drawin'Table is inspired by Montessori principles and offers an environment where autonomy, creativity and cognitive development are encouraged. By integrating this intelligent drawing table, parents, professionals and even educators can cultivate a lasting passion for art in children, while respecting their individual needs and learning pace. Drawin'kids' multifunctional wooden table is an excellent tool for children and their development. With Drawin'table, they can engage in a wide range of playful and creative activities.